If fun is your thing, then Aussie World is the number one theme park on the Sunshine Coast for thrills and spills.
It is conveniently located just a fifteen to twenty-minute drive from Nautilus Mooloolaba and is a fun way to entertain the young, and young at heart, during a visit to the Sunshine Coast.
When Is It Open?
Aussie World can change its opening hours seasonally, so it is best to check the website before you head over. Generally, they are closed Monday and Tuesday but are open from Wednesday to Thursday 10:00 am until 3:00 pm. If you are looking to visit on a weekend you can enjoy all the Aussie World fun on offer until 4 pm.
How Much Does It Cost?
Everyone that enters Aussie World needs to have a valid ticket and you can pre-pay online to see the current prices for entry to the park.
Kids under 14 will need to be accompanied by an adult for some rides and experiences.
What Is Included In The Ticket Price?
Included in the ticket price is unlimited use of ALL the rides. Along with that, they also have fun activities such as the Illusionarium, mazes and a water splash park just to name a few. There are also coin-operated arcade games and retro Side Show Alley but these are not included in the ticket price.
Aussie World always throws on fantastic events during public holidays and some weekends so that you can discover various shows and entertainment to make your visit extra exciting.
Is food available there?
Forget the packed lunch as Aussie World offers a cafe and bistro-style food court, plus a visit here just wouldn't be complete without a wood-fired pizza, steak or burger at the famous Banana Bender Pub.
For your convenience, they also offer lockers, an ATM and gift shop and bathrooms including accessible and baby change facilities.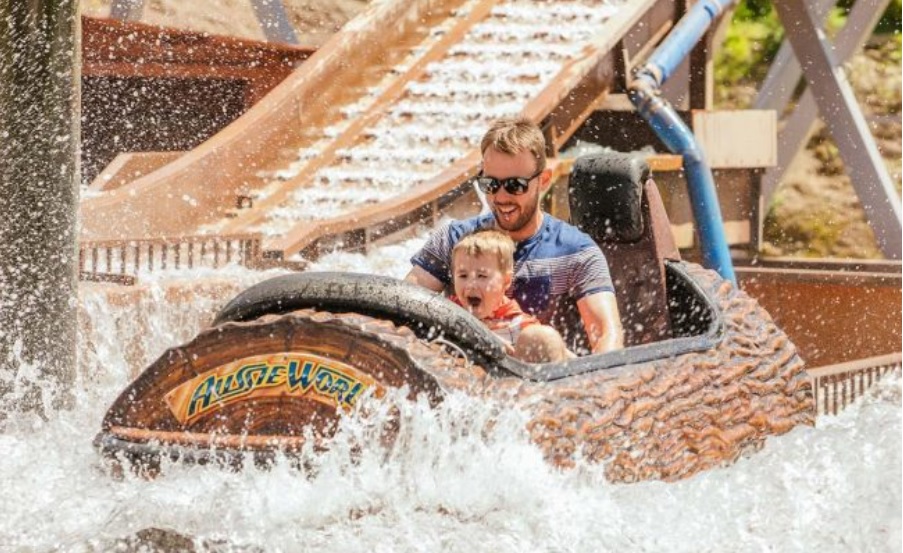 What Rides Do They Have?
Aussie World has many different rides around the park but one of our favourites is the highest 360-degree pendulum ride in the Southern Hemisphere – the SX360! Other hot favourites, if you don't mind a wild spin, is the Red Back or you can get soaked on The Plunge!
There is a wide range of rides to suit all ages.
What Is The Best Way To Get There? The easiest way to get to Aussie World from Mooloolaba is to simply drive and use their large car park. But if you do not have access to a car, then booking a taxi or Uber is an affordable option too! There is also a bus from Mooloolaba to Aussie World on Route 615. Click here to see the latest timetable.
Is There Anything Else To Do Nearby?
Aussie World is located at Palmview on the Bruce Highway. In the same precinct, however, there are many themed shops for gifts, treats and convenience. And as we have already mentioned, you can't miss a look inside the Banana Bender Hotel, right out front of Aussie World. This is a large pub and restaurant that also hosts live music events. The decor is a very interesting display of Australian-themed memorabilia and wildlife that you have to see to believe!
Is It Worth It?
While it is not the size of the theme parks on the Gold Coast, we see not waiting in line for hours as a huge plus! Your kids will have an awesome time and it is very good value for money.
Aussie World has been described as somewhere between a big local fair, and a large theme park. If you have questions about Aussie World or other attractions during your next Nautilus Mooloolaba stay, then simply ask us at reception. We will be more than happy to give you all the advice and tips you need to have a fun trip!