Every 2nd Saturday – Mooloolaba Sunset Markets 4.30pm – 9pm.
As the sun gracefully descends on the horizon at Mooloolaba Beach, prepare to immerse yourself in an evening of delightful entertainment at the Mooloolaba Sunsets Market. This event is the Sunshine Coast's premier destination for a diverse array of street food vendors and talented artisans, all converging to create a truly unforgettable experience. The market comes alive with a dynamic lineup of live performers and entertainers. Whether it's the soulful tunes of local musicians, mesmerising street performers, or captivating artists showcasing their talents, there's something for everyone to enjoy.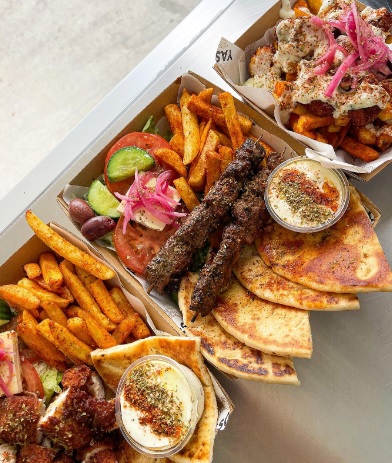 Spread out your picnic blanket along the sandy shores, where you can bask in the warm glow of the setting sun over the tranquil sea. The Mooloolaba Sunsets Markets offer the perfect backdrop for a relaxing evening by the water, where you can soak in the electric atmosphere that fills the air as the night unfolds. Your taste buds will embark on a culinary journey as you sample a diverse range of global cuisines prepared by our talented street food specialists.  The best part? This delightful event is entirely free, making it an accessible and enjoyable experience for the entire family. Bring your loved ones, your appetite, and your sense of wonder as you join us at the Mooloolaba Sunsets Market.
Savouring the Seas: A Seafood Lunch Cruise Adventure
Indulge in a serene and picturesque Mooloolaba seafood lunch cruise, a delightful experience perfect for families, couples, and seniors alike.
As you glide effortlessly through the Mooloolaba Harbour, river, and canals, you'll be treated to captivating sights, including the renowned 'Fishing Fleet,' Pilot Boats, and Recreational Vessels. Take in the breathtaking views of Mooloolaba Bay from the river mouth and satisfy your taste buds with the freshest seafood from Mooloolah River Fisheries. Keep your eyes peeled for a glimpse of Steve Irwin's marine research vessel 'Croc One' as you enjoy the gentle cruise. Then, as you venture into the main river and canals, marvel at the opulent Minyama mansions along Millionaires Row. With a choice of seven delectable lunch options included in the ticket price, including a non-seafood alternative, your taste buds are in for a treat. Plus, our informative commentary provides insight into the local area, making this cruise as educational as it is enjoyable.
Join the Heartwarming Wishlist Ks 4 Cancer Fun Run: Making Strides for a Cause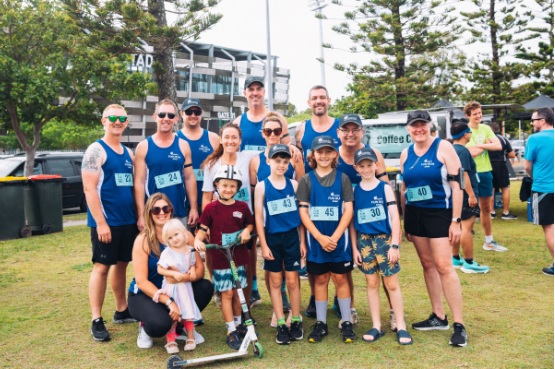 Get ready to lace up your sneakers, leash up your furry friend, and rally with friends, family, and the Sunshine Coast community for a day of fun, fitness, and fundraising! Mark your calendar for October 15, 2023, because the Wishlist Ks 4 Cancer Fun Run is back, and it's a day you won't want to miss. And – just 10 minutes from Nautilus Mooloolaba. Whether you prefer walking, running, rolling, or strolling with your four-legged companion, this event welcomes participants of all ages and abilities. It's not just a run; it's a heartwarming gathering that unites the community. Live entertainment will keep your spirits high, face painting will add a dash of color to your day, and the jumping castle promises boundless joy for the young (and young at heart). All that running and fun is bound to work up an appetite, and the Wishlist Fun Run has you covered. A delicious BBQ and refreshing drinks will keep you energised and hydrated throughout the day. It's a perfect opportunity to refuel and recharge before, during, and after your run.
Not sure if you're up for the full 10K? No problem! The Wishlist Fun Run offers a range of distances to suit your comfort and goals. From the leisurely 2.5K walk to the 2.5K and 5K run/walk options, you have choices that cater to your fitness level and preferences. It's about participation, not perfection. Join us on October 15, 2023, for a day you'll treasure forever. Walk, run, roll, or stroll—it's not about how you get there; it's about the journey, the cause, and the warm smiles you'll encounter along the way. See you at the start line!
Elevate Your Adventure: The Big Pineapple Treetop Challenge
Hold onto your hats and prepare for a heart-pounding, adrenaline-pumping experience just a short 20-minute drive from your cosy stay at Nautilus Mooloolaba. Nestled within the lush coastal rainforest, The Big Pineapple Adventure Park beckons all thrill-seekers and nature enthusiasts for an unforgettable journey amidst the treetops. Imagine being suspended over 30 meters above the ground, surrounded by the breathtaking beauty of the Sunshine Coast's coastal rainforest. Prepare to be amazed as you embark on an epic half-day adventure that will push your limits and awaken your inner daredevil. With 120 exhilarating high ropes games and 12 ziplines spanning from 20 meters to a jaw-dropping 140 meters in length, every moment is a chance to challenge yourself, conquer your fears, and immerse yourself in the beauty of nature. The Big Pineapple Adventure Park offers six distinctive courses, each designed to provide a unique blend of excitement and adventure. Whether you're a beginner looking for a gentle start or a seasoned thrill-seeker seeking an extreme challenge, there's a course tailored just for you. From easy beginnings, you'll progress to heart-pounding extremes, with entirely new challenges that are exclusive to the Sunshine Coast. Something for the WHOLE family!
If you're ready to elevate your adventure, push your limits, and embrace the thrill of a lifetime, head to The Big Pineapple Treetop Challenge. It's a Sunshine Coast experience like no other, promising stunning vistas, heart-pounding excitement, and memories that will last a lifetime. Don't miss out on the opportunity to soar amongst the treetops and create your own epic adventure!