Get ready to unleash your inner thrill-seeker on the Sunshine Coast! This place is an absolute paradise for adventurous sports enthusiasts. From rip-roaring go-karting to heart-pounding paintball and mind-blowing high ropes activities, or even the ultimate adrenaline rush of skydiving, you'll find an endless array of exhilarating experiences to dive into. So, let's take a look at some of the best adventurous sports activities you can get your hands on in this stunning region.
Go-Karting: If you're after a dose of pure adrenaline, mate, go-karting is the way to go. The legendary Big Kart Track in Landsborough has been a Sunshine Coast icon for many years. With over 1.2 kilometers of track and a wide range of karts to choose from, it caters to everyone, whether you're a seasoned speed demon or a rookie. Strap in tight, give it your all, and see if you can leave your mates in the dust. 
Paintball: For all you tactical maestros out there, paintball is an absolute must. With various terrains and scenarios available, it offers an electrifying and challenging experience. Head on over to the Skirmish Sunshine Coast in Palmview, where you'll find different paintball fields, including a Western-themed town, a jungle field, and a speedball field. All with top-notch instructors and gear provided.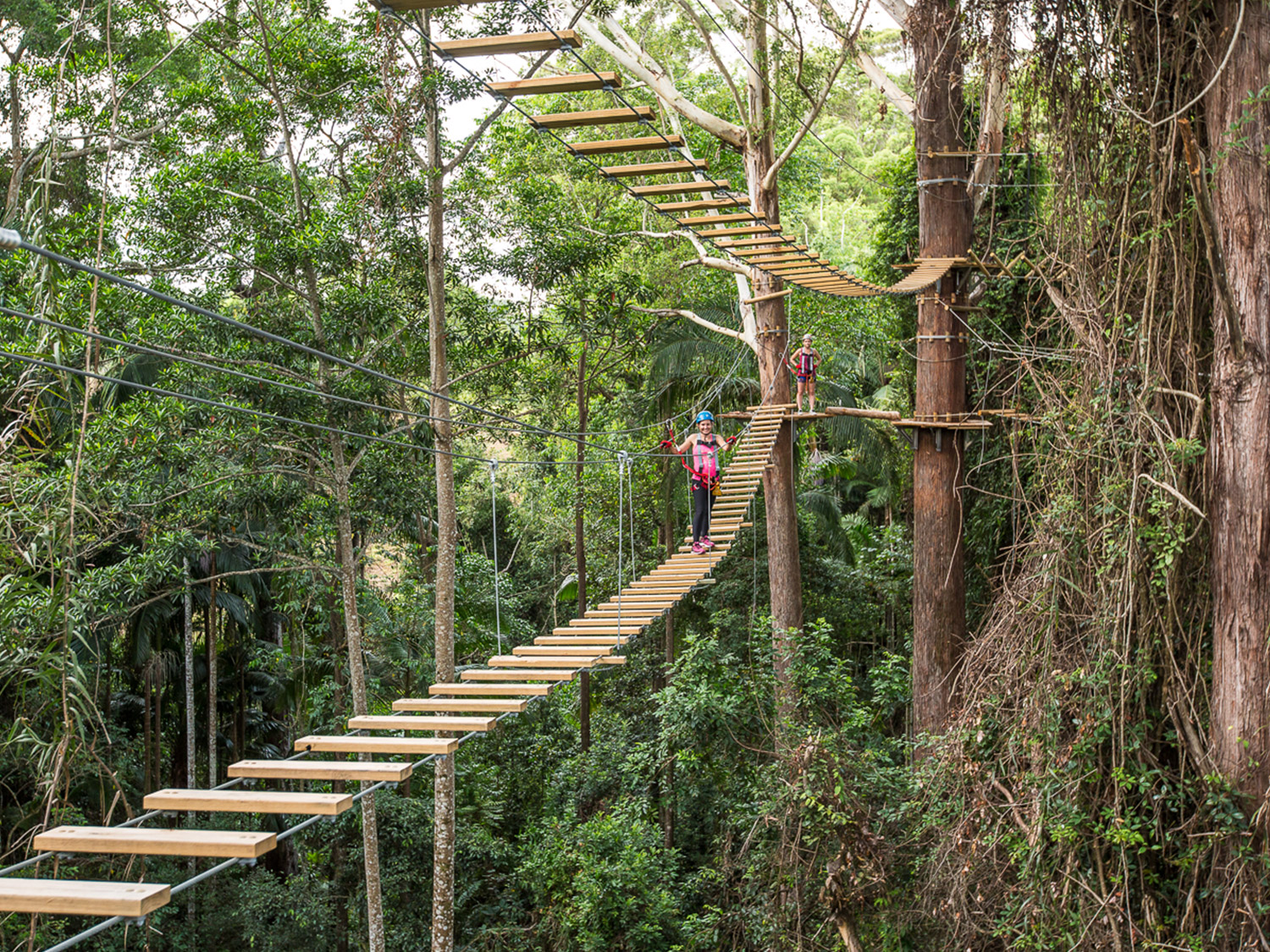 High Ropes Activities: If you're up for a challenge a high ropes course will get your blood pumping. The TreeTop Challenge in Woombye, near the Big Pineapple, is the go-to spot on the Sunshine Coast. They've got over 100 different challenges and activities that'll test your mettle. From zip-lining like a boss to balancing on suspended ropes, you'll need all your strength and coordination to ace this course. And who knows, you might even conquer a fear of heights along the way, too.
Jet Skiing: Water sports fanatics, listen up! Jet skiing is an activity you can't miss on the Sunshine Coast. Hop on a jet ski and explore the stunning coastline while feeling the rush of high-speed water fun. Our friends at Sunreef offer Jet Ski Safaris where you can uleash your adrenaline on the bay in front of Mooloolaba Beach. With a sprawling 3 square kilometers to explore, you're in control of your jet ski adventure. Whether you prefer a leisurely ride or an all-out thrill, Sunreef offers the freedom to choose your pace.
At Sunreef, safety comes first and their dedicated crew and rescue boat will accompany you throughout your adventure, ensuring peace of mind at all times.
Skydiving: If you're after the ultimate thrill, you've gotta give skydiving a crack. The Sunshine Coast boasts a bunch of skydiving companies https://www.skydive.com.au/locations/noosa/, and one of the best spots is to land on stunning Noosa Beach. Skydiving is the epitome of adrenaline, a once-in-a-lifetime experience you can tick off your bucket list right here. So, gear up, muster up your courage, and take the plunge!
All in all, the Sunshine Coast is an absolute haven for adventure sports enthusiasts like yourself. So, why not step out of your comfort zone and try something new? You never know, you might just discover a whole new passion for these adrenaline-pumping activities! Feel free to have a yarn with our staff and they'll be happy to help you choose or book any adventure sports experience that tickles your fancy. So, grab your mates, get ready for an epic ride, and let the adventure begin!