If you are looking for the perfect two-bedroom holiday apartment in Mooloolaba for your next getaway, then look no further than Nautilus Mooloolaba, we believe that our resort offers a fantastic choice.
Booking a two-bedroom apartment is perfect for small families in particular. One bedroom for the parents and the second bedroom for the kids, holiday sorted!
Two-bedroom apartment-style accommodation makes for a much more convenient choice than a hotel room. Firstly, a hotel room will often mean that you are all squished into one room, with two double beds. Alternatively, you might have to book two adjoining rooms in a hotel, which will increase the cost drastically or limit what you can find that is side-by-side!
One of the best benefits of booking an apartment is that it comes with cooking facilities, a fridge, laundry, and more. Our two-bedroom apartments are self-contained, with room and furnishings to truly live it up. Our apartment will be your comfortable, relaxing home away from home. This means you don't have to go out for every meal. With or without kids, sometimes it is nice to be able to make breakfast and enjoy in bed.
In a two-bedroom apartment, you also have the benefit of a lounge room and dining area. This just gives you more space to relax and spread out, and more options for your kids to entertain themselves. In a hotel room, you are often confined to eating meals only on a bed or a single chair. This is not always the most comfortable way to enjoy a meal, it is far nicer to be able to enjoy mealtime together at the dining table.
Our two-bedroom apartments all have a large balcony with a view of the beach, wharf, or garden, or a larger courtyard area on the ground floor.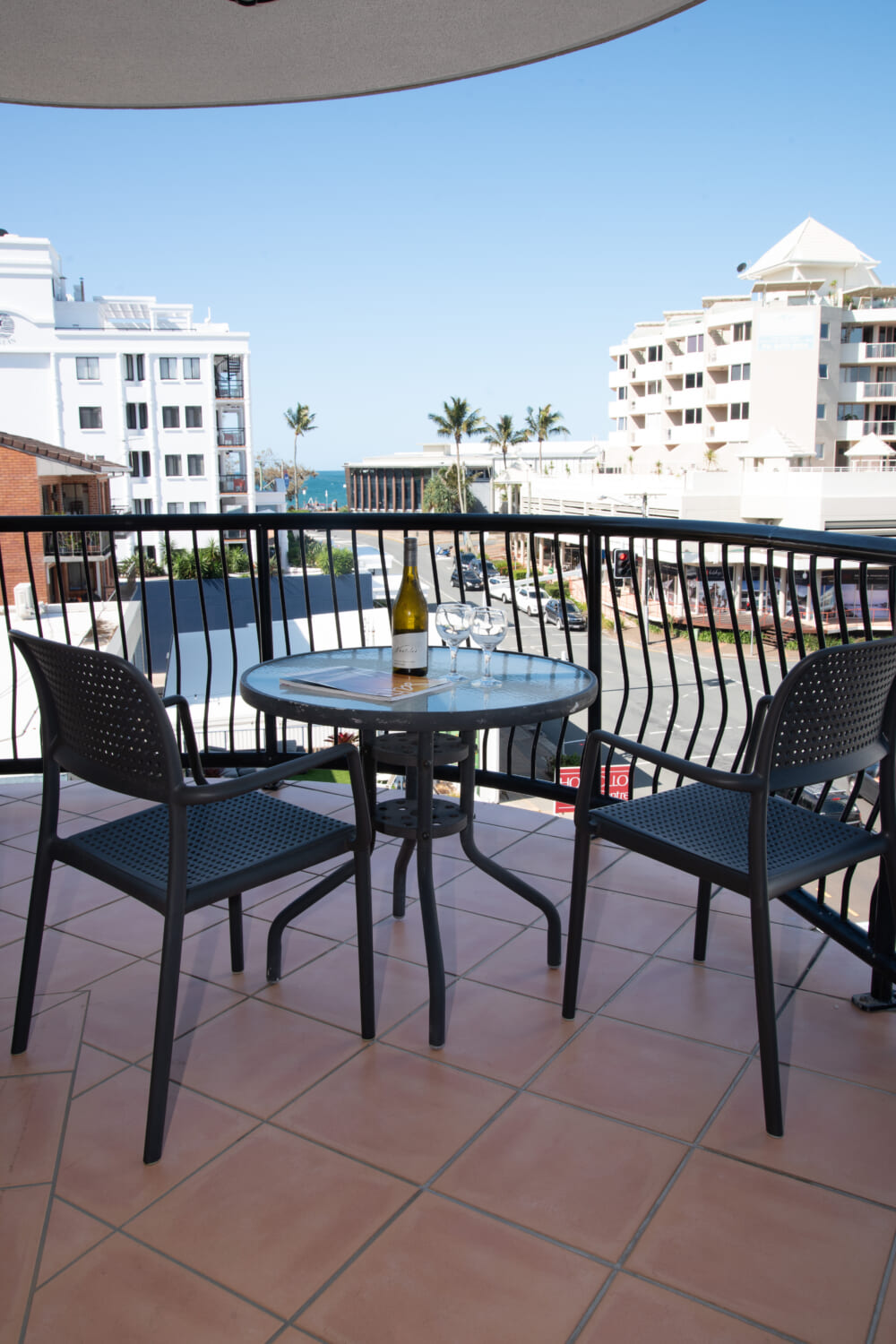 Other benefits of booking a family room at Nautilus Resort Mooloolaba are the added facilities on site. To help keep your children entertained, we have our own putt golf course, heated swimming pool, gymnasium, and barbeque area that is available for guest use.
All of these benefits are offered just metres from the patrolled Mooloolaba Beach, The Wharf Precinct, Sea Life Mooloolaba, and all the shopping and food outlets Mooloolaba is famous for.
We look forward to seeing your family here, so we can help you have the best stay possible in Mooloolaba. You can book directly with us and save by clicking here.