If you are looking for a well located hotel in Mooloolaba, then you can be sure we have one of the best, central locations possible. Within a very short walk, you can be on the beach, at the surf club, walking along Mooloolaba Esplanade, or visiting the Mooloolaba Wharf Precinct.
Also known by locals as the Wharf in Mooloolaba, this area has become more modern and vibrant in recent years. It is also home of the very popular Sea Life Aquarium.
The Wharf Precinct has become a major dining and entertainment area on the Sunshine Coast. There are many hip restaurants, relaxed cafes and bars that could not really get any closer to the water.
It is a family friendly area and also the base of tour operators, such as whale watching, sunset tours, jet skiing, and scuba diving operations too.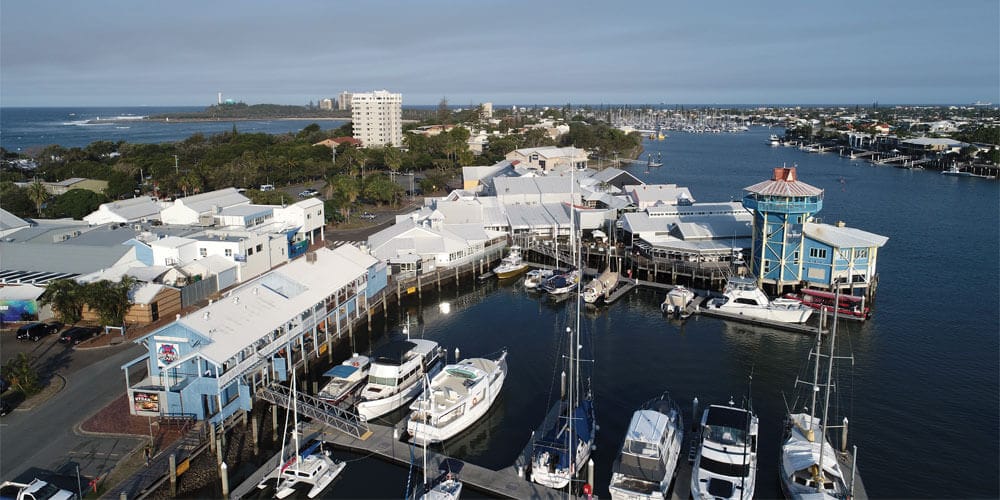 With the pretty views across the canals, countless boats moored and lots of timber decking, It has a special, "on holidays" feel about it. Most people come here to eat and drink.
The mix of styles is quite vast. From delicious seafood at See Restaurant, modern Asian at the popular Rice Boi, groovy Greek at Speros and perhaps the best located Hogs Breath Café, there is something for everyone.
The Savvy Squire and the Dock Mooloolaba have more of a pub feel and also boast live music on different nights.
Street food is popping up, ice cream and the good old fish and chips of course. Coffee is never far away and you can be sure it is made by well trained baristas. Recently there is a string of smaller bars that are proving very popular too.
Along with all the hospitality venues, there is also a great selection of boutique stores selling local produce and clothing, through to major brands that we all know.
There really is something for everyone at The Wharf in Mooloolaba. It has been great to watch the area grow and evolve positively over the years.
If you are looking for a holiday apartment close to the Wharf in Mooloolaba, then Nautilus offers the perfect locations for you. You can book online or contact us with any enquiries you may have.