Ok it might sound like a humble-brag, but the Sunshine Coast really is a great place to visit all year round!
Aside from the odd windy, rainy day in winter, the weather is pleasant enough to have a great time with us at Nautilus Mooloolaba, through every season.
Having said that, if you are wondering to yourself "But really, when is the best time for a holiday on the Sunshine Coast?" – then read on, we have much to tell you!
The Hot List – what months are voted as the best time on the Sunshine Coast?
From various surveys conducted, Spring time, in particular October and November have been voted as THE best time to come for a holiday in Mooloolaba. Average daily maximum temperatures are often between 24 and 27 degrees which is perfect for soaking up the Mooloolaba sun without breaking too much of a sweat. Traditionally, there is little rainfall in these months too.
October and November also fall in between the busier holiday periods of September school holidays and the popular Christmas season break. This means Mooloolaba and other parts of the coast are not as busy and it's easier to get bookings to all of your favourite attractions and best restaurants.
Other Great Times To Visit Mooloolaba
Humble-bragging again, because even though any time is a good time to be in Mooloolaba, there are a few points to remember that might apply to the time of year you are planning your next getaway with us at Nautilus.
Winter can be lovely, with mild days, honeyed sunsets over the ocean and less crowds, but the ocean can be a little cold to enjoy a swim. Luckily for our guests we have you covered with our heated pool, spa and waterfall!
January to March generally sees the most rain but you can still enjoy many indoor activities like Sea Life Mooloolaba, shopping at Sunshine Plaza and the multitudes of amazing restaurants on offer.
Easter is one of the busiest times on the Sunshine Coast aside from the Christmas holidays as there are so many wonderful family-friendly and music events on!
If you are looking for off-peak deals on your holiday then the best time to visit is usually in the period after Easter, through to June
It is hard to beat a Christmas or New Year on the beach so booking well ahead of time for this popular season with us is a must
In November the water is getting warmer, but the beaches have not become too busy to find that spacious patch of sand all to yourself!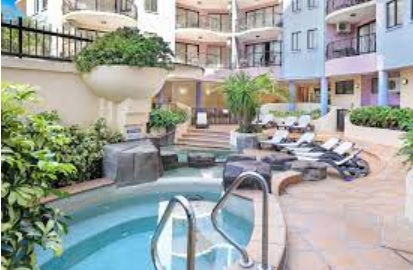 When Not To Visit The Sunshine Coast
The short answer is – there is NEVER a time not to visit!! We don't believe that there is a bad time to come and stay on the Sunshine Coast. Whatever the season, there are so many amazing things to do, see and experience.
However, the warmer months might suit a beach-lovers' holiday appetite more and the adventurous hiker and mountain-climbers amongst us might prefer the less humid periods.
All year round as you are out and about you will meet friendly locals that love living here, and they appreciate the mildly changing seasons too.
If you are looking to book a holiday apartment in Mooloolaba, any time of year, then you can book the best rates directly with us via the specials page.
Feel free also to contact us with any questions you might have about things to do, so we can help you plan the most enjoyable holiday possible with us at Nautilus.
It doesn't matter when you visit, just make it soon!